The overall objective of the project is to develop a concept for the processing of rapeseed that includes process development and demonstration of the overall process on a pilot scale.
Economic goals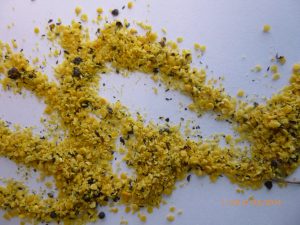 The project partners are designing and optimizing a novel process based on the processing of peeled rapeseed. The novel process for cell disruptioEn investigated in this project, in Combination with an alcoholic direct extraction is a promising contribution to achieve new products or products with improved product specifications.
The development of this novel process not only results in new products but also the potential for worldwide marketing of innovative processes and plants. In addition, the processes developed allow a significant qualitative improvement of existing rapeseed products. This extends the utilization of rapeseed and increases the proceeds from its sale. As a result and through the isolation of novel valuable materials, new sales markets are created for rapeseed products and a significant increase in the added value of oilseeds is achieved.
Development Policy objectives
In this sense, the project contributes to strengthening the competitiveness of German agriculture and forestry. The focus is on the development of sustainable and integrated production processes (biorefinery) including cascade utilization.
Scientific and technical working objectives
The innovative approach of the EthaNa project is to use peeled rapeseed for the production of raw and valuable recyclable materials from rapeseed. This is also to be used to recover the valuable material fractions. The main focus of these efforts is the integration of an alternative rapeseed processing line. This line is to be integrated into the present infrastructure of existing oil mills in the future.
The most important scientific and technical objectives of this project are therefore the development of a holistic process which includes peeling of the rapeseed, cell disruption of the rapeseed kernels and fractional extraction and processing of the various products. The individual process steps are to be brought together within an overall concept and demonstrated through to technical implementation on a pilot scale. The far gentler process control is to be achieved only by direct extraction with alcohol, without pressing the oilseed. The result is that antinutritive substances are largely eliminated and bitter substances and colour components are separated. Secondary substances such as sinapic acid, tocopherols, phytic acid or glucosinolates are more easily accessible and significantly increase the added value of rapeseed. The processing strategy also makes it possible to easily isolate a crude rapeseed oil of semi-refined quality.