It was a challenge for all the companies and project partners involved to complete the installation of the rape dehulling to such an extent that the plant was successfully commissioned in April. Together with the project partners B + B Engineering and AVA, a plant for breaking up the seeds with subsequent separation of the components of the shells and core material was designed in a fluidized bed and installed at the Fraunhofer CBP. Processing of up to 250 kg / h can be achieved in continuous operation.
This is an important milestone in the joint project and the first step in demonstrating the entire process for the mild ethanolic extraction of hulled rapeseed. The second part of the plant for the digestion of the cores and extraction is currently being designed and is scheduled to go into operation in 2020. New products and products with improved quality are available with the EthaNa process. In addition to rapeseed oil, rapeseed proteins offer potential for use in the food or animal feed sector, as well as for isolating pharmaceutically active substances such as sinapine, tocopherols or phytic acid. This significantly increases the value added of the rapeseed. The first discussions with potential customers took place in order to coordinate further research activities for specific application developments.
With the commissioning of the rapeseed dehulling plant section, the first step towards the construction of the entire EthaNa pilot plant has been taken. The other parts of the plant for the disintegration of dehulled rapeseed, direct extraction and desolventisation will follow until 2020. An important prerequisite has been fulfilled in order to carry out further investigations, optimizations and analyzes of the EthaNa process and to provide new product samples. "We have come a step closer to our goal of developing and establishing the EthaNa process for the improved and full use of rapeseed within a rapeseed biorefinery," summarizes Dr. Fabian Steffler, project manager at Fraunhofer CBP, together.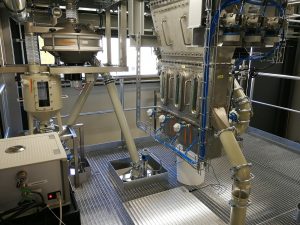 ---